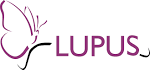 In 2005 I was told that I have an autoimmune disease called Lupus.  A normal immune system just fights off harmful things like disease and bacteria, but my immune system went all "ghetto" and is constantly fighting itself. I woke up one morning feeling like I'd sprained my shoulder.  After a few days the other shoulder hurt too.  I thought we needed a new mattress.  When the pain became worse instead of better, I went to the doctor.  I hadn't been to the doctor since my last pediatric visit.  A few days after the first blood tests, I got a call from my doctor.  Imagine my surprise and anger when he told me it was likely that I had Lupus.  Crazy doctor had to be wrong, didn't he know that I don't get sick?  He asked if I knew what Lupus was.  I told him I didn't and I asked if it was fatal, because honestly, I've got way too much shit to do and haunting people is not on that list.  After being told it was rarely fatal, and that I couldn't get rid of it, I went in for some more specific testing.  The conclusion was, in fact, Lupus. Within a short time, I couldn't move my entire body, even breathing hurt.  It felt like I had acid searing through every one of my joints.  I couldn't stand, or lift my arms, or even hold anything because my joints wouldn't work under all of that intense pain.  I felt helpless when I realized I couldn't even use the bathroom alone.  I pulled that whole "in sickness and in health" card early in my marriage.  I resisted medication, as I am the type of person who doesn't like to put any drugs into my system.  It's been my experience that the side effects can be worse than the symptoms you're treating.  Sure your joint pain may ease up a bit, but it's been replaced with vomiting, dizziness, explosive diarrhea, inability to urinate and prank calling the President in your sleep.  Thanks, but I think I'll pass.  In addition to the pain, I sometimes develop this lovely rash on my face, debilitating weakness and fatigue, and a lot of other things I won't bore you with.  I tried alternative medicines, such as herbs, vitamins, and Reiki, which was interesting but that's a whole other blog.  I had to admit defeat and began taking medicines.  None of them helped.  I was ready to chant, see a voodoo priestess, drink toad pee or whatever it took to get relief from this exhausting pain that persisted.  I'm lucky that as of now I have no major organ involvement.  I have regular blood tests to keep tabs on my illness and treat it accordingly.  After several years I've finally found a few medicines that work for me, and most days I have only mild pain, fatigue and weakness, and a few other symptoms.  Once in a while I feel normal.
They call it an "invisible" illness, because there are very few visible signs of the disease.  What is most frustrating is the fact that I feel great, and then an hour later I'm laid out on the couch feeling like I'm on my deathbed, though I look just fine.  It's hard for someone to understand, and honestly, it's hard for ME to understand too. People judge and gossip.  I don't like to be judged, unless it's a favorable judgment of course.  And I don't like when people gossip about me, unless I come out looking amazing.  There's no way of predicting exactly when Lupus will act up, how severe it will be, or how long the activity will last.  Plans get cancelled, my to do list goes all to hell, fun things I had planned with the kids get postponed and I'm left feeling like a big baby who's let down everyone that I care about.  I'm lucky to have people in my life that love me anyway and help out however they can.  I'll always be grateful for these people!
Living with a chronic illness has taught me that we can't always control what happens in our life, but we can always control how we deal with it.  My "story" does not define me.  Who I am is so much deeper than what happens to me.  My illness doesn't discourage me, it strengthens me and gives me a whole new respect for people and our individual struggles for happiness in this life.  It can always be worse.  With a few minor lifestyle changes, the right meds, and an extreme appreciation that Lupus isn't going to kill me, life is still good.  It's always nice to hear from people who can relate to my story in one way or another.  It's a good reminder that no one is ever alone.  🙂
Thanks for reading!